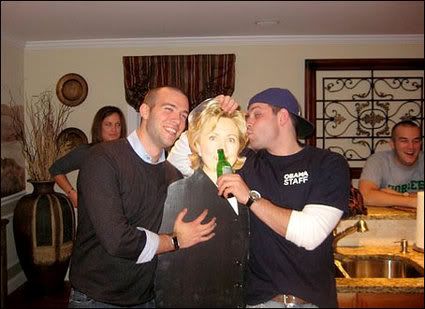 Jon Favreau
, the tacky adolescent on the left (as opposed to the tacky adolescent on the right), is Barack Obama's speech writer; he is to be the Director of Speechwriting for the President after Obama assumes office on January 20.
A stripling youth of 27, Favreau apparently doesn't know unacceptable behavior when he engages in it. He recently attended a party where he allowed himself to be photographed inappropriately pawing a life size cutout of Hillary Clinton.
This is just bad form, and it reminds me a lot of what went on in the blogs during the primaries. Blatantly sexist and entirely inappropriate for a presidential appointee.
Al Kamen
at
The Washington Post
reports that the man child had "reached out to Senator Clinton to offer an apology." Reached out, indeed.
I think the President-Elect should reconsider this appointment.