That's right. Misha(Ma'Heo)Houser, a good friend, an amazing democrat and a brilliant artist put forth a breathtaking piece of digital art for Orange County's
Artists for Obama
. This was a fundraiser meant to raise money to send local delegates to the convention in Denver. Both Charlotte and I attended this event Saturday night and the print is even more gorgeous in person.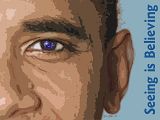 So, what does it take to get one of these amazing prints? Just $300! That's it for an original, limited edition print that symbolizes the hopes and dreams that we have for an Obama presidency. This money is to help send a Democratic delegate to the Denver convention as well, it's money well spent with a great piece of history to keep for a lifetime.
Misha is only printing and selling twenty of these pieces and I'm hoping that you will help her get to Denver and show your pride in supporting Obama. It's a wonderful piece that would look great anywhere and I wish I had the money myself to buy one!
The proceeds to this sale will also benefit the proposed web cast for our local blog,
The Liberal OC
. It's a breath of fresh air in our very red County and I can't wait to get back to blogging there! (I've taken a break in my local blogging to concentrate on helping my husband run for California State Senate!)
A quote from Misha herself about the event...
This will be my first convention & I'm so excited! A fellow delegate and I will be doing daily webcasts from Denver so that you can share the experience with us! Our webcasts will be hosted through www.theliberaloc.com/.

We plan to do interviews, cover behind the scenes happenings, and share video from the convention floor. This is your chance to see our political process in action!

So, there you go. Twenty only! Get to buying!
If you are interested in purchasing one of the prints, you can email me at ellinorianne@hotmail.com and I will pass on your request!