It could not have happened to two more serving sexist, arrogant hypocritical windbags. Chris "Tweety" Matthews and Keith "I wanna be Edward R. Murrow" Olbermann have been dumped!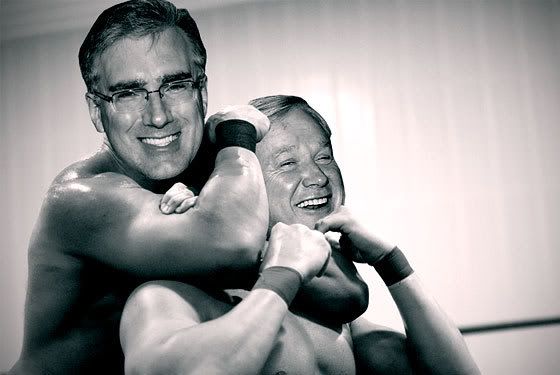 Source
From
The New York Times
, under the headline
MSNBC Takes Incendiary Hosts From Anchor Seat
:
MSNBC tried a bold experiment this year by putting two politically incendiary hosts, Keith Olbermann and Chris Matthews, in the anchor chair to lead the cable news channel's coverage of the election.

That experiment appears to be over.

After months of accusations of political bias and simmering animosity between MSNBC and its parent network NBC, the channel decided over the weekend that the NBC News correspondent and MSNBC host David Gregory would anchor news coverage of the coming debates and election night. Mr. Olbermann and Mr. Matthews will remain as analysts during the coverage.
Taylor Marsh
, one of the few on our side of the blogosphere
to cover the sexism and anti-Hillary bias
displayed by both of these bozos, thinks that this is a victory for the GOP.
Chalk this one up as a win for the GOP, who knows how to work the refs and has a huge team behind them to help, including right-wing and Christian broadcasting. This is going to raise the media bias issue, the "liberal media" canard even higher for the public. It's called blowback, which plays into Palin's candidacy and further helps John McCain.
This certainly gives the GOP some talking points for a few days, but all will be forgotten when the next big campaign story comes (perhaps Sarah Palin will give us something to talk about after her first major interview with ABC this week). In the long run, it is better for everyone to keep these two jerks from being promoted as legitimate journalists. We are on the right side of history. We don't a biased journalist like Keith Olbermann to help us. We can win on our merits.
While others on our side of the blogosphere are in despair over this news, this Clintonistas for Obama is wearing a big goofy grin!