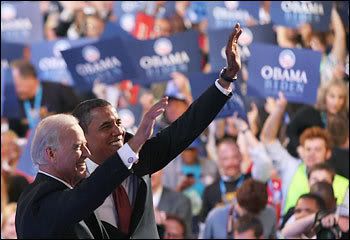 Our national convention has named the nominees of the Democratic Party. In a disciplined convention focused on the themes of hope and change, things that the American people crave in this election year, our beloved Hillary went to the microphone and called for the nomination of Barack Obama by the acclamation of the convention. The crowd roared its approval, and the long march toward history ended this phase. Later in the evening, we witnessed the convention nominate Joseph Biden of Delaware, nominated by acclamation of the convention delegates, give a great stem winder where he took apart McCain and his cohort.
We are not Clintonistas now. We are not Obama partisans now. We all are Democrats now.
Obama-Biden 2008!
That's it, baby; let's go win this election!