Hat tip to
Josh Marshall
for all his research on this issue.
You have to love the
McCains
. They have sumptuous taste in housing, and being fabulously wealthy, they can--and do--own lots of homes all over the place. John and Cindy offloaded this pretty pad in Phoenix:
Here's their ranch in the desert:
It's important to have a place to stay in town, and the McCains are able to do just that; here's John's mansion in lovely Phoenix:
But if the linen on the bed is mussed, there's no need to worry, because the McCains actually own a $4.6 million condo in another part of Phoenix:
Wow. Swank. Actually, this is the presumptive Republican nominee walking down a hallway in that 7,000 square foot condo in Phoenix:
This is the building where John and Cindy have their three bedroom condo in Arlington, Virginia:
But guess what, around the time that John "I'm Not Sure How Many Houses I Own" McCain was advising American homeowners that they should skip their vacations, Cindy "Let Them Eat Cake" McCain got an itch to buy a second beach front condo. The McCains now own two condos in this building: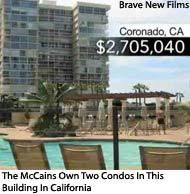 Listen to John McCain answer how many houses he owns:
Actually,
Josh Marshall
currently is counting 10 McCain homes, but in fairness to the Let Them Eat Cake Family, they say they only use
four
of them.
Delicious.
Robin Leach, we demand a segment, and we demand it now!