A few days ago, I
wrote about Becky Greenwald
, who is running for Congress in Iowa and the Progressive Patriots Fund.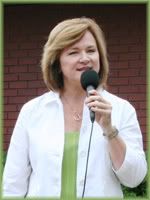 Senator Russ Feingold's Political Action Committee will give a $5000 donation to the candidate who gets the most support in an online vote. Yesterday, I received an email from Becky's campaign informing me that Becky is currently in THIRD PLACE! And today, I received an email from Russ Feingold announcing that the polls close at 6pm EST today. We have only a few hours remaining.
As many of you know, I am not from Iowa but there are some reasons I'm writing about Becky' campaign right now. First, a very close friend of mine is on Becky's senior staff. I have known him for several years and he has assured me that Becky is the real thing. Second, if elected, Becky will be the first woman elected to the House of Representatives in Iowa. I personally believe that empowering women is important in American society. Third, after Senator Obama becomes President Obama in January, he is going to need good Democrats like Becky in Congress if he is going to push his agenda.
As
I wrote a few days ago
, Becky just got through a tough primary and her fundraising took a hit when the floods hit in June. Right now, her Republican opponent (who loves war and hates poor people--more on this jerk coming soon) has a huge cash advantage and the big Democratic organizations like
Emily's List
won't invest in Becky's race until she gets some attention from the media and raises some money on her own.
Getting this endorsement and the money from the Progressive Patriot's Fund could be just the boost that she needs. So please visit
this website and vote for Becky Greenwald!