Cross posted to MyDD
Cross posted to
Daily Kos
Today, the Democratic Party lost a true lionness. But more importantly, the world lost a champion for those not spoken for, for voters rights, for human rights, and a wonderful woman who can never be replaced.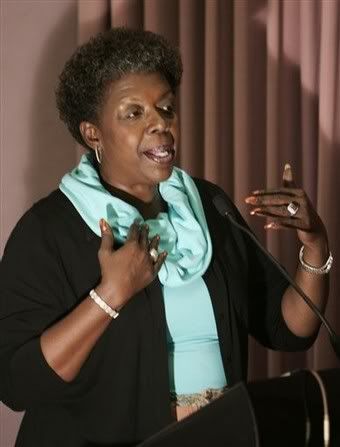 *RIP Stephanie Tubbs-Jones (1949-2008)*
The first time I heard of Congresswoman Tubbs-Jones was when she began campagining for Hillary nearing the time of the Ohio primary. What struck me first when I saw her speak was the conviction, the smile, the strength that she showed championing the causes that she believed in. It showed that she enjoyed her job--and she was fighting for causes that she truly believed in, a champion for the people she represented in Ohio's 11th district.
As the first African-American congresswoman from the state of Ohio, she was a groundbreaking figure in the state, and her election did not dissapoint. A true fighter for liberal causes, she championed voters rights, and joined Senator Barbara Boxer in asking for accountability in Ohio's election results, by voting against certification of those votes.
Her words from January 6th, 2005, still ring clear as day today. She was a fighter for the right to vote; clean elections; and for liberal causes.

"I, Stephanie Tubbs Jones, a representative from Ohio, and Ms. Boxer, a Senator from California, object to the counting of the electoral votes of the State of Ohio on the ground that they were not, under all of the known circumstances, regularly given.

"While some have called our cause foolish I can assure you that my parents, Mary and Andrew Tubbs did not raise any fools and as a lawyer, former judge and prosecutor, I am duty bound to follow the law and apply the law to the facts as I find them.

"It is on behalf of those millions of Americans who believe in and value our democratic process and the right to vote that I put forth this objection today. If they are willing stand at the polls for countless hours in the rain as many did in Ohio, then I can surely stand up for them here in the halls of Congress.

"This objection does not have at its root the hope or even the hint of overturning or challenging the victory of the President; but it is a necessary, timely and appropriate opportunity to review and remedy the most precious process in our democracy."

"I raise this objection neither to put the nation in the turmoil of a proposed overturned election nor to provide cannon fodder or partisan demagoguery for my fellow Republican Members of Congress.

"I raise this objection because I am convinced that we as a body must conduct a formal and legitimate debate about election irregularities. I raise this objection to debate the process and protect the integrity of the true will of the people.

"Again, I thank Senator Boxer for joining me in this objection to the counting of Ohio's electoral votes due to the considerable number of voting irregularities that transpired in my home state.
In addition, other accomplisments are quite impressive:
During her first term, Congresswoman Tubbs Jones secured passage of the Child Abuse Prevention and Enforcement (CAPE) Act, her first piece of legislation. This bill uses common sense enforcement reforms to protect children from abuse and neglect without increasing federal spending or imposing unfunded mandates on states.

In the 107th Congress, Congresswoman Tubbs Jones introduced the Uterine Fibroids Research and Education Act of 2001. This act would increase funding for research on uterine fibroids and provide enhanced public education about this condition. The Congresswoman introduced the Predatory Mortgage Lending Practices Reduction Act, which would require certification of mortgage brokers and enhance penalties for predatory loans, and the Campus Fire Prevention Act, which would provide money to equip college dorms, fraternities, and sororities houses with fire suppression devices. The Congresswoman introduced the Retiree Health Assistance Act of 2001 to fund the health care costs of retired steelworkers. She is an original co-sponsor of a number of important pieces of legislation, including election reform, healthcare for low and middle-income families, and a bill to establish a nationwide system for tracking chronic diseases.
I hope that we, as a people, can hold our elected representatives to the same standards that Congresswoman Tubbs-Jones held herself too. She knew who she represented, and she related to the poor, lower class, working class, and minorities who live across this nation. Join me in saying goodbye to one our nation's strongest voices, and one of its most beautiful souls. Thank you for standing up for us, at all levels of government. Thank you.
Godspeed.