Please, I don't know how else to ask. But we must stop Gary's Republican Oppenent in Orange County (
Gary Pritchard is the Democratic Candidate for State Senate
). Not only is she a "GOP Rising Star", she's adamantly opposed to public education and marriage equality. Just read what she had to say about California's Supreme Court striking down the ban on Gay marriage in our State.
"I pledge to fight the Supreme Court's decision to allow gay marriage in California by working to ensure the passage of the California Marriage Protection Act this November," Walters concluded.
Yes, she doesn't just oppose Gay Marriage, Mimi Walters is doing all she can to see that Proposition Eight passes this November.
Mimi Walters Calls Supreme Court Ruling on Gay Marriage a Travesty for Family Values

SACRAMENTO - Today, in response to the California Supreme Court ruling that struck down Proposition 22 on a 4-3 vote, Assemblywoman Mimi Walters called the decision a travesty for family values.

"The Supreme Court today blatantly disregarded the will of Californians to protect the sacred institution of marriage. The Court stated that it could not 'find that the retention of the traditional definition of marriage constitutes a compelling state interest,'" Walters said. "I could not disagree more strongly with the Court's ruling today. Marriage between a man and a woman is the foundation of our society, and the Court's action is a travesty for family values."

"Today's decision completely ignores the will of over 60% of California's voters who approved Proposition 22 eight years ago," Walters continued.

The California Marriage Protection Act, an initiative in circulation that has gathered 1.5 million signatures and will appear on the November ballot, will write into the California Constitution that the only marriages recognized in this state are those between one man and one woman.

"I pledge to fight the Supreme Court's decision to allow gay marriage in California by working to ensure the passage of the California Marriage Protection Act this November," Walters concluded.

OC Blog
And Assemblywoman Walters not only opposes marriage equality, she works adamantly against our
Counties unions
and
public education
. Gary Pritchard has come across many Republican PTA parents who were appalled by the reaction they received from Walters when they approached her as concerned parents. Walters doesn't even have to pretend to care about the issues that are a concern to both Republicans and Demorats in her district, why would she be any different in the State Senate? And to wit, why would she be any different as she continues to climb the electoral ladder. Mimi Walter's ambitions do not stop at State Office, she's determined to move on to Federal seats.
My husband Gary Pritchard, could not be more different from Assemblywoman Watlers. Not only is Gary a teacher, we have a five year old in Orange County's public schools. Gary is also a Union member, proudly so.
When the Orange County Employees Association had a food drive for their members this summer, Gary Pritchard was there with a box full of donations. Even as we struggled to get through the summer, it was imperative that we support those who not as lucky as Gary and I. You don't just talk the talk, you walk the walk.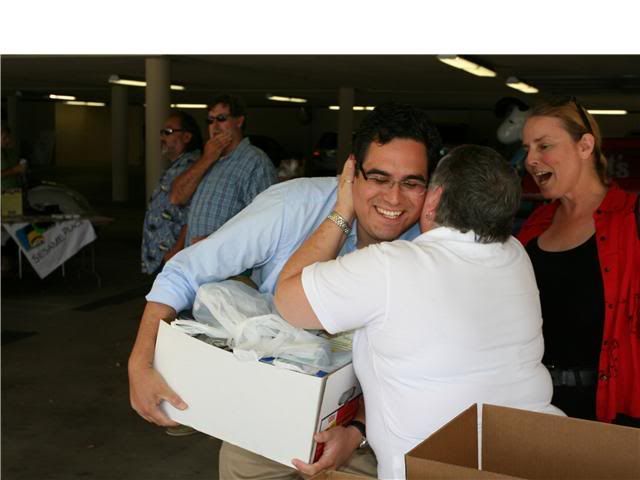 And as you can see from the photo, the board was grateful for the gesture (I also found out that Gary gave a twenty to a guy circling the parking lot in his truck, he had driven from Riverside to Orange County to collect a check owed to him and the business was not to be found. He needed money for gas TO GET BACK HOME).
I'm so proud of this man, I'm so proud that he's stood up to say that there is a choice, that we have to give people an alternative to Republicans in Orange County and that he put his name on the ballot to give people that choice.
And here is Charlotte with our
second rescue dog
, Emma. Rescue dogs are like potato chips, you can't just have one! Orange County has been hit hard by the mortgage meltdown and many of our innocent animals are being abandoned at high kill shelters. Both our girls (
Kona
and
Emma
) were saved on their last day and we've welcomed them into our home.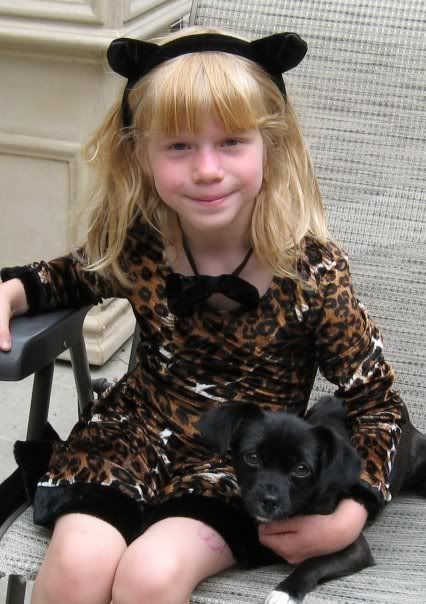 We also support defeating Proposition Eight and for me it's very personal. A very good friend of mine married recently so they could do it before the vote. They are worried like many other same sex couples that they might not be able to LEGALLY marry after November 4th.
I want to be at that big wedding next June (Gary has already agreed to play their wedding without cost and is going to try to get friends to do the same, it's good to know a musician!) and I want to be there to see them take those vows as Gary and I did ten years ago. I want to bring my daughter to their wedding and show her what love looks like, what it means to share your life with another humanbeing and to bear the burdens that life puts upon us all together, with equality and dignity.

I hate beating our own drum, but right now, I don't know who else is going to and I'm proud of my family and our values. I'm proud of my husband, who just ten years ago refused to go to a same sex ceremony to someone who believes that equality is imperative if we are to move forward as a society. Pleople do grow, they do change and they do learn.

All I ask is that you help me support Gary by donating to his campaign. He's a good man, he's a great human being and I'm so proud to say he is the father of my only child and the person I intend to spend the rest of my life with. It kills me to see him struggle with this campaign, to see him attempt to raise money to pay off his ballot statement, to see him struggle to balance family, his job and his run for office. But that's what we do right? We fight for what we believe in without compromising those things most important to us in our personal lives.
You can donate via
Act Blue
or
send a Check!
. If you send me your address, I will even send you a contribution envelope with postage paid.